Forehead Lift
Whether you're laughing, crying, or even sleeping, your forehead is constantly moving: expanding, contracting, stretching, and wrinkling.
Almost every facial expression involves the forehead.

All this activity leaves its mark. The result is deep forehead wrinkling and horizontal and vertical frown lines. Also developing with years, gravity, and occasionally heredity, sagging, heavy eyebrows can often make someone look constantly tired and unhappy. The eyes actually appear smaller!
Before
After
View the Gallery
Forehead and brow lifting has undergone particular advances in recent years. Now, what previously required an incision from ear to ear, can usually be done with five half inch to one inch incisions in the hair. When a high forehead precludes this approach, incisions can be hidden along the hairline. By altering some of the underlying muscles, our plastic surgeon can slow the return of frown and worry lines. The brow is then repositioned with most of the elevation at the sides to achieve a natural, refreshed appearance.
Patients are up and around in a day or so with any discomfort controlled by medication. Sutures and fixation come out in about a week. Swelling and bruising recede over 7-10 days.
After a browlift, the tired, sad look gives way to a rested, energetic appearance and often the entire face brightens up.
Contact Dr. Scott Miller today for more information on the forehead lift procedure.
Related Posts
The Benefits of Endoscopic Brow Lift Surgery
Committed to utilizing the most innovative, beneficial techniques available, Dr.…
Read More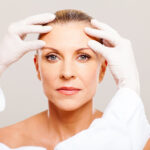 Forehead and Eyebrow Rejunevation
Whether you're laughing, crying, or even sleeping, your forehead is…
Read More