Liposuction is one of the most popular plastic surgery procedures in America. When used to contour and reshape, it is referred to as liposculpture. For millions of people striving to improve their bodies and appearance, liposuction can be a great solution because it can remove the fat that diet and exercise cannot reach. Everyone has "first on, last off" areas. No matter how many miles, sit-ups, weights, or laps you do, sometimes the fat remains. Liposuction can target those difficult areas and is appropriate for oversized hips, buttocks, thighs, bellies, and love handles, as well as fat deposits on arms, calves, knees, ankles, above the knees, above the breasts, and under the chin. In many cases, different areas can be treated during a single operation. Through a half-inch incision, a cannula (long, thin tube) suctions out unwanted fat.
What is Liposuction?
Liposuction is designed to extract excess fat that is resistant to diet and exercise, resulting in a slimmer and more defined contour in the treated areas. This technique can smooth fat bulges and reduce fat pockets in virtually any area of the body, offering a simple and fairly predictable method of selective fat reduction. For many patients, liposuction from our board-certified plastic surgeon can be an excellent treatment to tone regions of the body that are unaffected by diet and exercise—the procedure requires tiny incisions and a relatively shorter period of downtime when compared to other cosmetic surgeries. However, liposuction is not intended for weight loss and should not be used as a treatment for obesity. The best candidates for liposuction are at or near their ideal body weight and have good skin elasticity.
What are the Benefits of Liposuction?
Unlike other fat reduction techniques, liposuction has the ability to contour many different areas, as well as larger treatment sites, in one procedure. Dr. Scott Miller also has a greater degree of control in sculpting the targeted regions when compared to non-surgical alternatives, allowing him the ability to reshape the area according to your aesthetic goals. The advantages of body sculpting through liposuction include:
Ability to remove large amounts of fat in a given region
Smooth recovery period compared to other cosmetic surgeries
Can be performed on many areas of the body
Lasting outcome
The results can be seen immediately, with the outcome improving after bruising and swelling have fully resolved. Once the fat cells are removed, they cannot "regrow" and the final result should remain stable for a lifetime as long as you maintain a healthy lifestyle.
Is Liposuction Right for Me?
Liposuction can help any patient who wishes to slim and shape areas of isolated fat. While the procedure can be successfully performed on both men and women, the best results are usually seen in patients who have relatively good skin tone. This means there is little to no skin laxity present in the treatment area(s), allowing the outcome of your fat reduction to look taut and contoured. In general, you may consider liposuction if you:
Want long-term results
Have realistic expectations for the outcome
Have trouble sculpting "problem" areas through natural solutions, such as healthy eating and working out
Are willing to undergo a brief recovery period
For individuals who have excess skin or poor skin elasticity, combining liposuction with a body lifting procedure like a tummy tuck may be recommended to address skin quality in addition to stubborn fat. Alternatively, a non-surgical fat reduction treatment like CoolSculpting® might be preferred for patients who would rather avoid surgery. Dr. Miller will listen carefully to your goals and help you formulate an ideal treatment plan based on your needs.
What Areas Can Be Treated With Liposuction?
Liposuction can reduce fat in regions of the body commonly prone to excess fat accumulation, including "bra rolls," "love handles," and "muffin tops." These bulges are often resistant to dieting and exercise, but can be easily smoothed with liposuction techniques. Popular treatment sites for liposuction include the:
Abdomen
Hips
Thighs
Flanks
Back
Upper Arms
Inner knees
In addition to targeting fat deposits in the body, Dr. Miller can also slim and sculpt a "double chin" with liposuction to improve the entire facial profile. For many patients, this can provide an enhanced contour along the chin and jawline. If jawline contouring encompasses your goals, Dr. Miller may also recommend combining liposuction to the neck with a facial implant to achieve comprehensive sculpting of the submental region.
Liposuction vs. Tummy Tuck for Abdominal Contouring
Liposuction and tummy tuck surgery (abdominoplasty) are two body contouring procedures that patients often utilize to gain a firmer, tighter, and sleeker abdomen. While both cosmetic surgeries can shape the abdomen and achieve beautiful results that appear natural, there are significant distinctions between a tummy tuck and liposuction with regard to abdominal contouring. Liposuction is designed to sculpt the body solely through fat removal and can eliminate the stubborn fat pockets that may be preventing a smooth contour. This technique is not intended to address excess skin or lax muscles, meaning liposuction patients should have little to no skin laxity in the targeted area.
A tummy tuck, on the other hand, can treat loose skin and separated musculature in addition to excess fat. Tummy tuck surgery is generally a good treatment for patients who have some degree of redundant skin or stretched abdominal muscles. Typical candidates include individuals who have undergone pregnancy, weight loss, or those who would like to improve a hanging or protruding abdomen. It is also common to undergo liposuction and abdominoplasty simultaneously to achieve the best possible improvement, whether as part of a Mommy Makeover or a single combination surgery.
Types of Liposuction
Tumescent Liposuction
Tumescent liposuction is a technique designed to minimize patient discomfort during and after treatment. By utilizing thinner cannulas to suction out excess fat cells, the incisions created during the procedure are smaller than those made in traditional liposuction and can lead to less noticeable scarring. Medications designed to numb the area and minimize blood loss are injected into the targeted locations, while unwanted fat is gently suctioned out to create a more even contour. Tumescent liposuction typically results in a smoother recovery process with less bruising and swelling than other approaches. It is commonly performed in accordance with other liposuction techniques.
Body Jet Liposuction

Miller Cosmetic Surgery Center is now offering Body Jet Lipo! This exciting new technology offers smoother shaping with less bruising and shorter down time. By using a gentle pulse of saline fluid to help dislodge fat, the system assists the plastic surgeon and allows for easier fat breakdown and suction; therefore, tissue is less damaged.
Body Jet Lipo WAL Steps:
Step 1: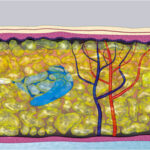 Infiltration. Saline spray is introduced into adipose tissue to loosen the structure and release adipocytes.
Step 2: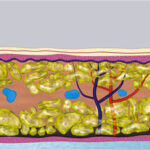 Irrigation and aspiration. Treated areas are not "bloated" because the infiltrated solution is being simultaneously re-aspirated.
Body Jet Liposuction Compared to Traditional Liposuction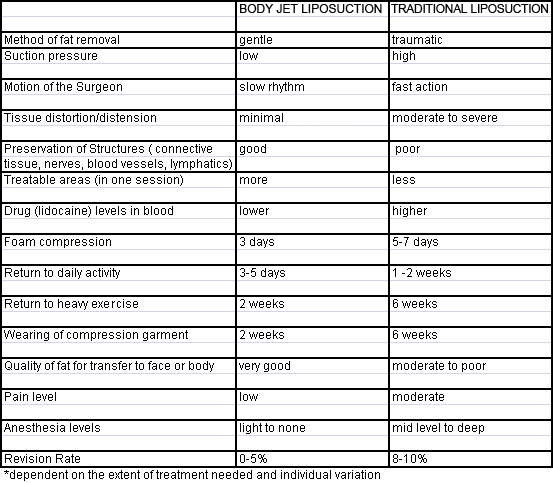 How is the Liposuction Procedure Performed?
Liposuction can be performed using local or general anesthesia. As an outpatient procedure, patients can return home soon after treatment with the help of a friend or loved one. During surgery, a half-inch incision is made near the area(s) planned for treatment. Dr. Miller places incisions discreetly in the natural contours of the body whenever possible. A narrow cannula is inserted through the incision and uses a rapid back-and-forth motion to loosen fat cells, making the fatty tissue easier to remove. Once the desired aesthetic has been reached, Dr. Miller will close your incisions. Depending on your needs, liposuction usually takes one to two hours.
What is Recovery From Liposuction Like?
A tight-fitting elastic garment will help contour and smooth the skin. Medication is provided for discomfort and numbness should fade gradually. Patients are typically up and around in a day or two, but strenuous activities are restricted for one to two weeks. Swelling and bruising should subside over a month or two. Skin dimpling (cellulite) present before surgery will likely be present afterwards. Occasionally, permanent sagging of the skin results when the amount of fat removed exceeds the ability of the skin to shrink. Overweight patients who have aggressive reduction of fatty areas must be willing to accept a greater chance of contour irregularities and less than ideal skin redraping in exchange for a remarkably improved figure in clothing.
What are the Results of Liposuction?
The body contouring that results from liposuction can be dramatic for a variety of areas. "Saddlebags" may disappear. Legs and hips are often thinner and more shapely. Stomachs can become flatter, and double chins can be sculpted to reveal natural neck contours. While providing a multitude of advantages, liposuction is not a substitute for a good diet and exercise regimen. The best candidates for liposuction are at or near their ideal body weight. For individuals with deposits of fat resistant to diet and exercise, liposculpture may be the perfect way to rid the body of stubborn fat.
How Long Does Liposuction Last?
Since the fat cells that are removed from the body do not regenerate, liposuction results can last a lifetime as long as you maintain a stable weight. While the procedure is designed to remove excess fat for good, liposuction cannot make patients immune to additional weight gain. Surrounding fat cells can still shrink or enlarge with weight fluctuation, highlighting the importance of committing to a healthy and active lifestyle after surgery to preserve the outcome achieved with liposuction. Uncontrolled weight gain may simply be redistributed to other parts of the body, potentially leading to contour irregularities and a disproportionate body shape.
How Much Does Liposuction Cost?
The cost of liposuction will depend on the number of areas treated, the size of the targeted region(s), and the extent of your concerns. While we cannot determine an accurate cost estimate without knowledge of your unique needs, rest assured that our patient care coordinator will provide you with a personalized quote after your consultation with Dr. Miller. If you prefer to pay for your treatment in installments, our office accepts plastic surgery financing through CareCredit®— a trusted healthcare lending institution that allows qualified applicants to choose from an array of flexible payment plans with low- to no-interest rates. With options that can suit virtually any budget, CareCredit® can help approved patients make the cost of liposuction more affordable. If you have any other questions about liposuction or our accepted payment methods, please contact Miller Cosmetic Surgery for more information.
Will I Have Visible Scars From Liposuction?
Liposuction incisions are very tiny, typically spanning less than half an inch long, allowing very discreet post-surgical scarring. Whenever possible, they are hidden along the natural folds and creases in the skin. The number of incisions made will depend on which area of the body is being targeted for fat removal, as well as how much fat is extracted. Because liposuction incisions do not cause major trauma to the skin tissue, scars often fade over time and become virtually undetectable once fully healed.
Are There Any Liposuction Side Effects?
Swelling and minor bruising can be expected temporarily after liposuction, although both reactions usually subside fairly quickly during the recovery period. Soreness and numbness are also possible, but not as common. Dr. Miller often utilizes the tumescent technique during liposuction procedures, significantly reducing the amount of swelling and discomfort experienced as your body heals. This involves delivering a solution of medications into the treated area(s) prior to fat extraction, which can minimize blood loss, swelling, bruising, and other side effects.
Can I Get Liposuction Results Without Surgery?
Liposuction is considered the most effective fat reduction technique available, as a surgical procedure typically allows a larger amount of fat removal as well as precise, surgeon-controlled body contouring. That said, Dr. Miller also offers CoolSculpting® for patients who would rather avoid surgery, anesthesia, and downtime. CoolSculpting® uses powerful, controlled-cooling technology to break down excess fat in many regions of the body traditionally addressed with liposuction, only without the time and expense of a surgical procedure. This can help patients achieve a smoother, firmer look in the treated areas through minimally invasive techniques.
It's worth noting that CoolSculpting® cannot provide the immediate results that are characteristic of liposuction—the outcome of CoolSculpting® usually unfolds gradually as fat is naturally metabolized by the body over the following months. Furthermore, multiple treatments are usually recommended with CoolSculpting® to attain the highest quality of results. Dr. Miller can suggest the most ideal body sculpting technique for you based on your unique needs and preferences.
Additional Liposuction FAQs
Is liposuction safe?
Liposuction is among the most heavily researched and predictable cosmetic surgeries performed, making the procedure safe for patients who are good surgical candidates and under the care of a qualified plastic surgeon. Liposuction techniques have progressed significantly since the technology was first introduced, and aesthetic surgeons now utilize cutting-edge methods to more easily dislodge the fat while minimizing bleeding and recovery time. Dr. Miller will discuss all of the risks and limitations of liposuction with you so you're able to fully understand the procedure and make a well-informed decision about your treatment options.
Can I gain weight after liposuction?
Yes, liposuction gets rid of excess fat cells permanently, but the procedure cannot prevent you from gaining weight in the future. If you gain weight, surrounding fat cells will simply enlarge and the fat will be distributed to other regions of the body. For this reason, committing to an active and healthy lifestyle is the best way to ensure your results last indefinitely.
What's the difference between subcutaneous fat and visceral fat?
Subcutaneous fat lies just below the surface of the skin, while visceral fat is found between your internal organs in the abdominal cavity. Visceral or "hidden" fat is located deep in the belly and biologically active, meaning it secretes hormones and can increase your risk of health problems if present in excess. Liposuction can only remove subcutaneous fat, but studies estimate that visceral fat only makes up about 10 percent of a person's total body fat. In general, visceral fat is much more responsive to dieting and exercise than subcutaneous fat, which is why many people turn to liposuction to smooth stubborn bulges near the surface of the skin.
Does liposuction for men differ from fat removal for women?
Although the same advanced fat-suctioning techniques are used for both men and women, male plastic surgery prioritizes a masculine aesthetic to ensure the results are harmonious and well-integrated with your natural appearance. Men and women typically have diverging anatomical differences, as well as varying ideals of beauty that inform how liposuction is performed on each patient. While women often desire more elegant and softer contours, men usually prefer to preserve the sharp, hard lines that define more masculine characteristics. All in all, Dr. Miller personalizes the surgery to create a natural-looking outcome for each patient. This patient-focused care is tailored to help ensure your desires for liposuction are brought to fruition.
If you have any questions about liposuction, or if you are ready to schedule a consultation with Dr. Miller, please reach out to our practice today.
Related Posts