Meet Dr. Scott Miller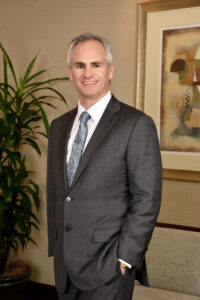 Dr. Scott R. Miller is a board-certified cosmetic and reconstructive plastic surgeon who is highly sought after for his advanced surgical expertise. Patients travel from around the country – and even overseas – to see him, and praise the beautifully natural results he has helped them achieve. In addition to his aesthetic outcomes, Dr. Miller is well-known for his compassionate bedside manner and informative consultations. As one of Southern California's leading plastic surgeons, he has proven his dedication to his patients' aesthetic, safety, and comfort.
At Miller Cosmetic Surgery, Dr. Miller performs facelift surgery, rhinoplasty, breast augmentation, liposculpture, tummy tuck surgery, structural fat grafting, and personalized skin care, among many other treatments. Dr. Miller and his friendly, knowledgeable staff welcome individuals into their elegant office and state-of-the-art certified surgical facility, located in the Scripps Medical Office Building on the campus of Scripps Memorial Hospital in La Jolla. The entire team is committed to answering any questions you may have, helping you feel at ease and make an informed decision about your treatment.
Meet. Dr. Scott R. Miller – Board Certified Plastic Surgeon – La Jolla, CA
Certified by the American Board of Plastic Surgery, Dr. Miller exceeds rigorous standards in plastic and reconstructive surgery. He continues to stay at the forefront of the latest technology and surgical techniques. Having undergone advanced fellowship training in aesthetic surgery, Dr. Miller is experienced in creating the most naturally beautiful outcomes. Starting with the consultation, he takes a personal approach, listening to each individual's surgical goals and addressing any concerns they may have. This, combined with his technical expertise and aesthetic artistry, leads to outstanding naturally beautiful results.

Dr. Miller participated as a special guest on UCSD-TV's Health Matters, sharing his expertise on topics ranging from shorter recovery times to procedures such as a Mommy Makeover. He has also been featured in a variety of other media sources, including Fox News and national magazine publications.
Educator and Clinical Instructor
An authority on providing aesthetic results, Dr. Miller pulls from his years of experience and frequently teaches courses on plastic surgery, instructing surgeons in endoscopic (minimal scar) techniques and advanced concepts in facial rejuvenation and enhancement. He acts as an attending surgeon at Scripps Memorial Hospital in La Jolla and a Voluntary Clinical Instructor of Plastic Surgery at the University of California, San Diego. He is also the author of multiple chapters on facelift advances in a plastic surgery textbook, along with numerous medical articles.
Education
Before becoming a distinguished surgeon, Dr. Miller earned his M.D. and completed his internship and residency in surgery at the University of California Irvine. He completed his plastic and reconstructive surgery residency at the University of California San Diego. Dr. Miller then went on to complete a prestigious fellowship in aesthetic cosmetic surgery with world-renowned plastic surgeon Dr. Bruce F. Connell. During his training under the "Father of the Modern Face Lift," Dr. Miller honed his surgical skill and techniques on achieving natural beauty in his plastic surgery patients.
University of California Irvine, College of Medicine
Year of graduation: 1991
University of California Medical Center Department of Surgery
Year of graduation: 1995
University of California San Diego Division of Plastic Surgery San Diego, California
Year of graduation: 1997
Bruce Connell Aesthetic Cosmetic Surgery Fellowship
Year of graduation: 1997
Professional Affiliations
Dr. Miller is a member of the American Society of Plastic Surgeons, the American Society for Aesthetic Plastic Surgery, and the California Society of Plastic Surgeons, as well as a Fellow of the American College of Surgeons. He also takes pride in participating in the Interface International Surgery Program, through which he is able to dramatically improve children's lives by correcting disfiguring birth defects in developing countries.




American Board of Plastic Surgery
American Society of Plastic Surgeons
American Society for Aesthetic Plastic Surgery
Fellow of the American College of Surgeons
American Medical Association
California Medical Association
California Society of Plastic Surgeons
Hospital Affiliations
Scripps Memorial Hospital – La Jolla
Awards
Dr. Miller has been recognized for his remarkable plastic surgery expertise through a variety of esteemed awards. These titles distinguish him from other professionals, as they communicate his elevated level of surgical skill and attention to patient care. Dr. Miller was awarded these honors thanks to nominations from the public, his peers, and medical governing boards.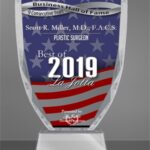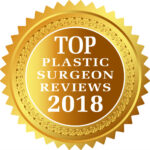 2019 – Best of La Jolla Award, Plastic Surgeon
2018 – Best of La Jolla Award, Plastic Surgeon
2018 – Top Plastic Surgeon Reviews 2018
2017 – Best of La Jolla Award, Plastic Surgeon
2016 – Best of La Jolla Award, Plastic Surgeon
2016 – The Spectrum Award of Excellence in Customer Satisfaction
2014 – Award of Honor & Laureate of the National Academy of Plastic Surgery, Consultant to the National Institute of Medicine
2014 – Best of La Jolla Award, Plastic Surgeon
2012 – Top Plastic Surgeon in San Diego, International Association of Healthcare Professionals
2012 – Patients' Choice Award, American Registry
2011, 2012 – Best Doctors in America
2011 – Best of La Jolla Award, Cosmetic Surgeon, US Commerce Association
2006 – ASPS/PSEF Recognition Award
2005 – Who's Who Among Executives and Professionals "Honors Addition" 2005
2000 – ASAPS Appreciation Award for Advancement of Aesthetic Surgery
1991 – The J. Gordon Hatfield Award for Excellence in Surgery
1991 – Orange County Medical Association Auxiliary Research Award
1987 – Excellence in Research Award, UCI School of Biological Sciences
1987 – Pacific Coast Athletic Association Scholar-Athlete Award
1986 – Dean's Award for Research
Presentations
1995 – UCSD, Division of Plastic Surgery Conference Lectures, San Diego, CA, Infusion Injuries/Principles of Flaps/Implantation: Bone, Cartilage & Alloplasts/Head and Neck Tumors
1995 – Infusion Injuries, UCSD Surgery Grand Rounds, San Diego, CA
1996 – UCSD, Division of Plastic Surgery Conference Lectures, San Diego, CA, Local Anesthetics and Cocaine/ Replantation/ Burn Surgery/ Rhinoplasty/ Blepharoplasty/ Plastic Surgery of the Ear/ Anthropometrics & Cephalometrics/ Craniofacial Anomalies
1996 – A Three Point Approach to Septal Surgery, American College of Surgeons, Southern California Chapter, Dana Point, CA
1997 – The Aging Face: Landmarks and Vectors, Facial Rejuvenation Symposium, La Jolla, CA
1998 – Minimal Incision Techniques in Plastic Surgery, Mission Hospital Seminar, Mission Viejo, CA
1998 – Interface: A Different Kind of Diplomacy, UCI Plastic Surgery Grand Rounds, Orange, CA
1998 – Interface: Plastic Surgery Abroad, Mission Hospital Grand Rounds, and Mission Viejo, CA
1998 – Rhytidectomy, ASAPS Teaching Course at Global Summit on Aesthetic Surgery, Los Angeles, CA
2000 – Face-lifting: A comparison of techniques, UCSD, Plastic Surgery Grand Rounds, La Jolla, CA
2000 – Endoscopic Browlifts: Advances and Refinements, UCSD, Aesthetic Surgery Invited Speaker, La Jolla, CA
2000 – Contemporary face lift techniques, Connell Foundation International Symposium on Aesthetic Surgery, Puerto Vallarta, MX
2001 – Change Your Looks For Good, Inspire Insurance Executive Health Lecture Series, Sorrento Valley, CA
2002 – Natural Facial Rejuvenation, Pacific Athletic Club Member Education, San Diego, California
2003 – Caveats in Facial Plastic Surgery UCSD, Plastic Surgery Grand Rounds, La Jolla, CA
2003 – Facial Rejuvenation and Office Teamwork: The Common Pathway, American Society of Plastic Surgical Nurses, Inc. Annual Convention, San Diego, CA
2005 – "Plastic Surgery 101" at the Momstown book signing, La Costa Resort and Spa, La Costa, CA, August 11, 2005
2005 – "An Evening of Beauty and Wellness" at Meridian Place with the San Diego Extreme Makeover Team, September 29, 2005
2007 – "Skin Spectrum: Skin cancer, skin repair, and skin care," May 20, 2007
2007 – Connell Society Annual Meeting, "TAME Mini-Incision Technique," June 17, 2007
2007 – "Applications of Quill Suture in Facial Plastic Surgery," Course demonstration leader at AAFPRS Fall Meeting, September 18-21, 2007.
2008 – Connell Society Annual Meeting "Problem Solving: Now what to do?" May 1, 2008
2008 – Facial Cosmetic Surgery Annual Meeting, "Caveats in Facial Aesthetic Surgery: A Plea for Excellence," June 20, 2008 Las Vegas
2010 – American Society of Plastic Surgeons Annual Meeting, "Comparison of Two Adipose Tissue Aspiration Methods," October 4, 2010, Toronto, Canada
2013 – Clinical & Teaching Conference UCSD Division of Plastic Surgery, "Practice Performance & Pearls/Technical Aspects of Facial Rejuvenation," Scott Miller, M.D., February 13, 2013
2013 – 2nd annual Passionately Pink for the Cure, Presenting Dr. Scott Miller with a discussion on Asking the Experts, Saturday, October 5, 2013
2015 – UCSD Grand Rounds, "Face Lift's Gone Awry," March 4, 2015
2015 – California Society of Plastic Surgeons Moderator and Presenter, "Face lift Complications," May 24, 2015
View Dr. Miller's Curriculum Vitae
What is a Plastic Surgeon?
A plastic surgeon is a physician trained in the art and science of cosmetic and reconstructive surgery. With extensive knowledge on the aesthetic principles of beauty as well as the health and function of anatomic systems, a plastic surgeon works to improve form and function in both well-functioning and impaired structures. While plastic surgeons perform many surgical treatments to cosmetically refine and rejuvenate the face, breasts, and body, they also often specialize in procedures designed to repair physical defects, address trauma and burn injuries, and reconstruct areas affected by cancer. Whether a patient's surgical goals include achieving a more youthful appearance or restoring a damaged structure, a plastic surgeon is comprehensively trained in key aspects of function, balance, proportion, and symmetry that are vital to obtaining beautiful, natural-looking results.
Importance of Board-Certification for Plastic Surgeons
When undergoing any type of treatment or procedure, you deserve the confidence of knowing you are in the hands of a highly-qualified physician with stringent standards of patient care. For plastic surgeons, this aptitude is often communicated through board-certification by the American Board of Plastic Surgery. Those who are board-certified obtain such a distinction by completing rigorous education and training requirements that speak volumes about an individual's dedication to surgical expertise, continuous learning, safety, compassion, and ethical care. More often than not, a plastic surgeon's board-certification highlights a passion for their craft and steadfast commitment to achieving the best possible outcome— values that can be essential to attaining the results you desire.
How to Choose the Best Plastic Surgeon For You
When researching a plastic surgeon in San Diego, consideration of a few key factors can go a long way towards achieving your aesthetic ideal and making your surgery or treatment a rewarding experience:
Learn about your prospective surgeon's qualifications and credentials. Start with researching whether they are board-certified, and then discover where they received their training as well as their professional affiliations. Ongoing membership to local and national organizations often demonstrates a stronger understanding of, and engagement with, innovations within the field of plastic surgery.
Find out if they are highly experienced in your treatment of interest. Choosing a surgeon with particular expertise in your surgery can ensure you are entrusting your care to a professional who is capable of optimizing the procedure according to your needs, and taking immediate action in the rare event that a complication occurs.
Check out your prospective surgeon's photo gallery to familiarize yourself with his or her work. Before-and-after photos of real patient results can help you determine whether the outcomes achieved with a given procedure align with your goals and expectations.
Read online reviews to gain insight into your prospective patient experience. These patient reviews are typically available for perusal on a wide range of platforms—including Facebook and Google—and can serve as an initial introduction into how a practice operates and the type of care you can expect to receive.
When you are ready to book your consultation with Dr. Miller, or if you have additional questions about our practice, please don't hesitate to contact Miller Cosmetic Surgery today.