Wrinkles, fine lines, and more can be improved with non-surgical facial fillers. Cosmetic dermal fillers available at Miller Cosmetic Surgery are designed to reduce the appearance of age and fatigue on the face, as well as fill out or plump up facial features, such as the lips, for a more youthful, contoured appearance. La Jolla plastic surgeon Scott Miller, MD offers the popular Restylane®, JUVÉDERM®, and JUVÉDERM VOLUMA™ XC treatments for patients who would like to effectively rejuvenate their appearance without the need for surgery and long recovery times.
Please contact our practice for more information on facial fillers, or to schedule a consultation with Dr. Miller.
Restylane® and JUVÉDERM®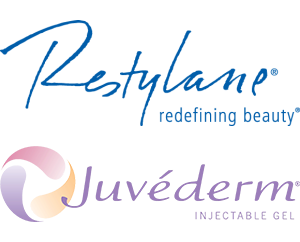 Restylane® and JUVÉDERM® can help you attain a number of goals and give your face a more refreshed, smoother appearance. Approved by the U.S. Food and Drug Administration, Restylane® and JUVÉDERM® can be very effective at filling in deep wrinkles and creases along the face, and rejuvenating nasolabial folds (lines that appear between the nose and mouth) and marionette lines (fold from the corner of the mouth to the jowls). These injectable facial fillers can also be used to add volume and contour to the lips. The two products have subtle differences which can be exploited to achieve optimal results, as individual care is customized.
Restylane® and JUVÉDERM® contain hyaluronic acid, a naturally-occurring substance in the human body. This treatment does not require allergy testing, and therefore there is typically no waiting period necessary before the procedure. Restylane® and JUVÉDERM® work by attaching their chemical components to the natural moisture of your body, ultimately rejuvenating the skin and smoothing out lines and wrinkles. Dr. Miller will inject Restylane® or JUVÉDERM® into the areas targeted for treatment with an ultra-fine needle. A topical anesthetic can be applied to the areas before injection to make the procedure as comfortable as possible.
Restylane® and JUVÉDERM® treatments usually take no longer than 30 minutes to complete, and only about 15 minutes in most cases. Newer formulations now have anesthetic in the product, resulting in immediate numbing once injected. The injection itself is helped by the topical "freeze."
Although you can expect some temporary redness and swelling in the target areas after the procedure, most patients are able to resume normal daily routines immediately following Restylane® or JUVÉDERM® treatment. Individuals who are under the age of 18, pregnant, and/or breastfeeding should not undergo Restylane® or JUVÉDERM® treatment; however, Dr. Miller can discuss other options that can offer similar benefits.
Results from Restylane® or JUVÉDERM® typically last at least six months, and even up to a year or beyond in some cases.
Is Restylane safe?
Yes. Restylane® has been used safely by dermatologists and plastic surgeons since 1996 worldwide. Because Restylane® is non-animal-based and fully biocompatible, allergy testing is not required. There is virtually no risk of animal-based disease transmission or allergic reaction. The most commonly reported side effects were temporary redness and swelling at the injection site. These effects typically resolve within two to three days.
JUVÉDERM VOLUMA™ XC

JUVÉDERM VOLUMA™ XC is the first and currently the only FDA-approved cosmetic injectable to treat midfacial volume loss. Over time and with age, skin around the mid-face can begin to sag and the cheeks can appear hollow due to a decrease in collagen production. JUVÉDERM VOLUMA™ XC works to improve skin elasticity and restore lost volume, allowing for a fuller, more youthful appearance. Treatment typically does not take any longer than 30 minutes, and minimal swelling, tenderness, and redness may occur, but these effects generally subside quickly. Results are usually long-lasting, with many patients enjoying benefits for up to two years.
You can keep the effects of Restylane®, JUVÉDERM®, or JUVÉDERM VOLUMA™ XC going even longer with occasional follow-up treatments.
Restylane®, JUVÉDERM®, and JUVÉDERM VOLUMA™ XC can be a great way to provide you with significant facial rejuvenation and reduction in the appearance of age and fatigue without the need to undergo surgery. Please contact Dr. Miller for more information on Restylane®, JUVÉDERM®, JUVÉDERM VOLUMA™ XC, BOTOX® Cosmetic, and other injectable cosmetic enhancement options.