Frown lines, which refer to the vertical "eleven" wrinkles between the brows, are a frustration for many men and women — even individuals as young as their late twenties. These tiny creases are caused by overactive facial muscles, which contort repeatedly as you make facial expressions. While injectables like BOTOX® Cosmetic and Dysport® have effectively treated frown lines for years, patients now have the option of smoothing these pesky wrinkles with DAXXIFY® — an FDA-approved and peptide-based neurotoxin that can provide results for as long as 6 to 9 months.
Unlike similar injectables that use human or animal byproducts to stabilize the neurotoxin's main ingredient (botulinum toxin A), DAXXIFY® uses a novel peptide formulation to relax wrinkles between the brows. This allows a higher-strength bond to the neurotoxin molecule, which can achieve results that last up to twice as long as BOTOX® Cosmetic.
What are the Benefits of DAXXIFY®?
DAXXIFY® is the first and only FDA-approved frown line treatment powered by a novel peptide solution. The unique composition of DAXXIFY® offers patients multiple benefits, including:
Results that last six to nine months — 30 to 50 percent longer than other wrinkle-relaxing injectables, such as BOTOX Cosmetic® and Jeuveau™
Effects of treatment can be seen as soon as one day after injections
Novel formulation does not contain any human or animal byproducts
Quick, in-office treatment that can be completed in 15 to 30 minutes
No downtime required
Since results from DAXXIFY® typically last six to nine months, patients are usually able to undergo fewer treatment sessions per year when compared to other neurotoxin injectables. In clinical studies, half of patients treated had no visible (or very minor) frown lines six months after injections.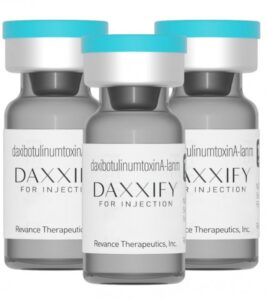 Is DAXXIFY® Right for Me?
If you have moderate to severe frown lines you'd like to improve, DAXXIFY® is one option that can give you a brighter, more carefree look without surgery. You may benefit from DAXXIFY® injections if:
Frown lines are creating a stressed, tired, or angry look
You're not happy with your current frown line treatment
You'd rather undergo a frown line treatment that does not use human or animal byproducts
You're seeking more long-term results than other products on the market can provide
DAXXIFY® is considered safe for all skin types, but it can help to discuss your concerns with a board-certified plastic surgeon to identify the best frown line treatment for your unique needs. Our aesthetic team can help develop an optimal treatment plan for you after a brief consultation.
How is Treatment with DAXXIFY® Performed?
DAXXIFY® injections take place in-office at Miller Cosmetic Surgery and typically don't take longer than 15 to 30 minutes. After evaluating the depth of your glabellar wrinkles, our experienced injectors will deliver the product to the treatment site using an ultra-fine needle. Minor swelling and redness after treatment is normal, but there is no recovery time required after injections. Some patients see results as soon as one day after treatment.
How Much Does DAXXIFY® Cost?
While we cannot provide a cost estimate prior to assessing your needs, the price of DAXXIFY® generally depends on the amount of product necessary to achieve your goals. The number of treatments you opt to undergo and the depth of your frown lines can also influence the total cost. Our team will be able to provide you with a personalized quote during your appointment. While insurance does not cover cosmetic treatments, qualified patients have the option of paying for their treatment with patient financing through CareCredit®.
At Miller Cosmetic Surgery, our aesthetic team offers a range of injectable options to smooth frown lines and expression wrinkles caused by overactive facial muscles. Contact our La Jolla practice to learn more about our non-surgical injectables or to discover the best treatment plan to achieve your goals.