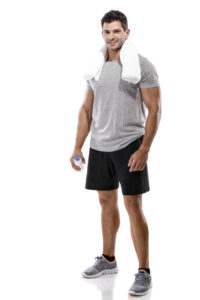 The main goal of liposuction is the same for both men and women: to eliminate excess fat. However, the aesthetic goals of men and women differ slightly, and as a result it is important to choose a plastic surgeon who understands your unique expectations. Dr. Scott Miller uses his artistic eye when performing body-contouring procedures to help ensure his male patients achieve the natural-looking, masculine results they often seek.
The most common areas men want to address with liposuction include the abdomen, love handles, flanks, and chin. Since many of our liposuction patients exercise frequently and maintain healthy diets, removing the last bit of stubborn fat from these areas can often reveal the developed, underlying muscles that have simply been hidden.
The chest is another popular area of the body for men to target with liposuction. For our male patients with swollen or overly large breasts (a condition known as gynecomastia), Dr. Miller can use liposuction to remove accumulated fat for a more contoured and masculine chest.
During the consultation process, Dr. Miller will take the time to learn your individual cosmetic goals and help you contour areas of the body that have been resistant to traditional methods of weight loss. To learn more about liposuction or plastic surgery for men, please contact us today.
Previous Post
Next Post