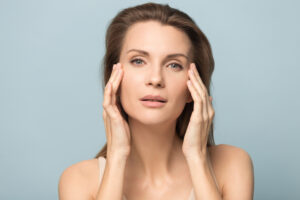 In general, a facelift addresses the lower-third of the face while a brow (forehead) lift treats the upper-third. Both procedures lift/reposition loose musculature, but a facelift also removes excess skin and fat deposits. Descended tissue in the upper face can cause drooping eyebrows and frown lines, sometimes creating the look of a permanently furrowed brow. Descended tissue in the lower face can cause a loss of contour around the cheeks as well as jowls along the jawline. A brow lift and facelift, respectively, can refresh the face and minimize these signs of age for a sleeker, smoother facial appearance. Combining both procedures can be the most powerful means of rejuvenation, as improvement will be seen over the entire face. 
There is a plethora of facial rejuvenation services available to renew aging skin and restore the youthful, vibrant aesthetic of previous years—both with and without the need for surgery. If you are unsure which option is best for your unique needs, Dr. Scott Miller can help guide you towards the most beneficial treatment for your goals. 
Please call Miller Cosmetic Surgery to learn how we can help you make your aesthetic desires a reality, or if you are ready to schedule a consultation.
Previous Post
Next Post