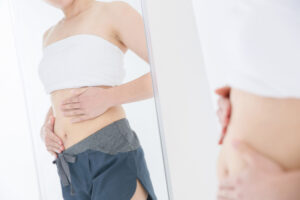 There are a variety of products on the market that claim to replicate the effects of a tummy tuck without the need for surgery or a major lifestyle change. One of the more well-known options is the Tummy Tuck® Miracle Slimming System—often shortened to the Tummy Tuck® Belt. This girdle-like abdominal binder is marketed as a non-surgical alternative to tummy tuck surgery that provides results on its own, but can also be complemented with exercise for a more noticeable outcome. The system purports to work through three steps: first, an individual applies a "thermal accelerating" cream on the abdomen. Once the cream is applied, patients are instructed to wear the Tummy Tuck® Belt for 10 minutes. Two of those minutes are spent performing standing abdominal exercises to activate the "fat burning" effect, and patients can subsequently resume their normal schedule for the remaining time. Despite claims from the maker of the product that simply repeating this routine twice a day can result in half an inch off the waistline in just one week, there is currently no medical or scientific evidence to support the notion that a Tummy Tuck® Belt can mirror the outcome of a surgical tummy tuck. 
A tummy tuck is a powerful procedure designed to tighten separated abdominal muscles and remove loose, excess skin for a tighter, smoother, and slimmer body contour. That said, it should be no surprise that the act of simply wearing a belt cannot reproduce the same outcome as abdominoplasty. A tummy tuck has the ability to enhance the shape of the abdomen by addressing the skin and underlying musculature, generally achieving a noticeable improvement that is not currently matched by any non-surgical treatment. 
Dr. Scott Miller is a highly experienced tummy tuck surgeon who can develop a customized treatment plan to achieve the beautiful results you desire. Contact our practice to schedule a personal consultation or to learn more about the procedure. 
Previous Post
Next Post