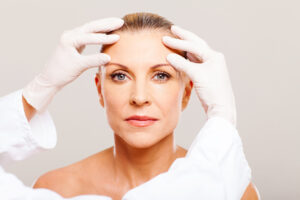 Whether you're laughing, crying, or even sleeping, your forehead is constantly moving:expanding, contracting, stretching, and wrinkling. Almost every facial expression involves the forehead.
All this activity can leave a lasting mark. The result is deep forehead wrinkling with horizontal and vertical frown lines. Also developing with time, gravity, and occasional heredity, are sagging eyebrows that can make someone look constantly tired and unhappy. The eyes actually appear smaller!
Forehead and brow lifting has undergone significant advances in recent years. The endoscopic approach can be done with a few half-inch incisions in the hair. By alternating some of the underlying muscles, the surgeon can slow the return of frown and worry lines. The brow is then repositioned with most of the elevation at the sides to achieve a natural, refreshed look.
After a brow lift, the tired and sad look gives way to a rested, energetic appearance, and often the entire face brightens up.
Dr. Scott R. Miller's fellowship training in aesthetic cosmetic plastic surgery and extensive endoscopic experience (the latest technique) makes him uniquely qualified to perform this procedure.
Previous Post
Next Post