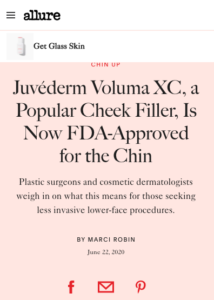 Dr. Scott Miller has been using JUVÉDERM VOLUMA® XC at our La Jolla practice to treat signs of facial aging for many years. The volumizing dermal filler has traditionally been used to combat volume loss in the mid-face by both restoring fullness in the areas of injection and better defining the cheek contours. Only recently has JUVÉDERM VOLUMA® XC been approved by the FDA for an additional indication: mild chin augmentation. In an Allure® magazine article profiling the new FDA-approval, our board-certified plastic surgeon shed light on some of the details regarding non-surgical chin enhancement with JUVÉDERM VOLUMA® XC.
According to Dr. Miller, injecting the VOLUMA® formulation of JUVÉDERM is most successful for mild chin augmentation. He is quoted in the article explaining that "…using it for other needs results in a lot of filler, a lot of money, and an unnatural, rubbery, bally chin pad." Although Dr. Miller had previously realized the injectable's potential in creating a strong, well-defined chin contour, he believes this new endorsement from the FDA will help increase patient confidence in the product as a non-surgical method of chin enhancement. "Specific FDA-approval will increase patient acceptance and excitement for this approach," he states.
To learn whether you are a good candidate for  JUVÉDERM VOLUMA® XC injections in the cheeks and/or chin, please contact Miller Cosmetic Surgery online or by calling (858) 453-3133 to schedule a consultation. 
Previous Post
Next Post