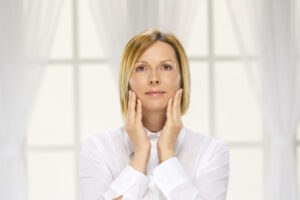 With the ability to smooth wrinkles, remove sagging or loose skin, and tighten underlying tissues, a facelift and neck lift can make you look 5-10 years younger. Face and necklift surgery is one of the most popular cosmetic procedures Dr. Scott Miller performs, and he is well known for providing exceptionally natural-looking results. Among the different concerns that facelift and neck lift candidates express during the consultation process, Dr. Miller notes that many ask what they can expect in regards to scarring after their recovery is complete.
Each facelift and neck lift procedure is custom-tailored to meet the unique needs of the individual. After fully discussing your desires and expectations, Dr. Miller will design a treatment plan that can help achieve your cosmetic goals. In most cases, the incision for a facelift and neck lift will begin at the temple, move around the back of the earlobe, and end at the neck. These incisions are carefully placed along natural skin lines and creases to ensure any scars are well-hidden and barely noticeable. By combining a facelift and neck lift, Dr. Miller is able to optimize your results without making any further incisions. Finally, we recommend diligent sun protection after surgery to further minimize any scarring.
For more information about Dr. Miller's facelift and neck lift technique, or to discover if you are a good candidate for this procedure, please schedule a consultation.
Previous Post
Next Post