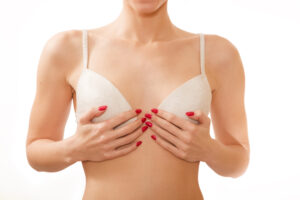 Capsular contracture is a common worry among breast augmentation candidates. The condition is characterized by hardened breast or scar tissue forming around the implants. Consequently, the shape of the breast implants can become distorted, or the patient may experience discomfort.
Dr. Scott Miller uses a number of precautions and techniques during breast augmentation surgery to minimize the risk of capsular contracture and deliver beautiful, lasting results. Patients who choose a subpectoral placement, in which the breast implant is positioned below the chest muscle, typically exhibit lower rates of capsular contracture. As an added benefit, this implant position can also help reduce the risk of rippling.
Secondly, when performing the procedure, Dr. Miller takes every available precaution to avoid unnecessary preoperative handling of the implant as well as minimize contact during surgery. These techniques can help mitigate the risk of capsular contracture resulting from bacterial contamination.
Finally, when patients select form-stable cohesive gel implants, the risk of capsular contracture is also reduced while providing exceptionally natural-looking results. Though it is impossible to completely eliminate the chance of capsular contracture, our patients can have peace of mind that Dr. Miller prioritizes patient safety during breast surgery with techniques that can greatly minimize postoperative complications.
If you would like to learn more about the risks and benefits of breast augmentation, or to schedule a consultation with Dr. Miller, please contact us today.
Previous Post
Next Post