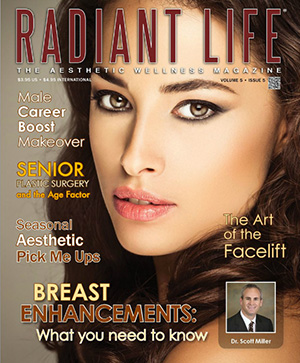 Dr. Scott Miller recently authored an article entitled, "Facelift Fundamentals: The A, B, C's to Identifying Your Best Course of Action" in Radiant Life Digital Magazine. The magazine delivers aesthetic news and information to the public, educating consumers about plastic surgery and cosmetic treatments. In the new article, Dr. Miller gives advice for people considering facelift surgery.
For patients at his La Jolla practice, Dr. Miller recommends they view their face as a whole–not as individual features. He calls it the "five foot rule," as this is the normal distance from which people will typically see you. By viewing your face from a distance and not up close, you can better evaluate your overall needs, or what he refers to as the "ABC's" of establishing your goals.
Aesthetics, balance, contour and dimension all come into play when planning the specifics of a facelift procedure. Enhancing one area of the face while neglecting others typically cannot produce the beautiful harmony of facial features. As a result, Dr. Miller recommends you work closely with a board certified plastic surgeon to determine your aesthetic goals to produce the most natural-looking results.
To see Dr. Miller's full article, click here
If you are considering renewing and rejuvenating your facial appearance, please schedule a consultation with Dr. Miller to discuss the best options for your individual needs.
Previous Post
Next Post