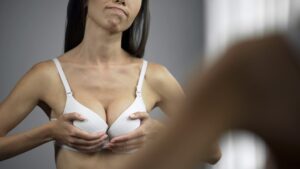 A common goal for individuals considering breast surgery is the desire to enhance cleavage. Cleavage can allow patients to feel more sensual and confident in their figure. For patients who have naturally small breasts or whose breasts have lost volume due to aging and pregnancy, cleavage may not be as visible or pronounced as they desire. While cleavage also depends on anatomical factors, such as how wide the breasts are spaced apart, board-certified plastic surgeon Dr. Scott Miller can speak with you about your goals and develop an optimal treatment plan to help you attain just the right curves.
Dr. Miller performs numerous breast surgery procedures designed to add fullness and volume to the breasts, as well as to enhance the bust. Depending on your needs and preferences, rounder and more youthful breast contours can be achieved with both breast augmentation and breast lift surgery. These procedures can rejuvenate flat, elongated, or sagging breasts while improving the breast shape — this often creates the effect of enhanced cleavage.
Among the chief benefits of breast augmentation is the ability to achieve the breast contours you envision through implant placement. Whether you're seeking a natural look or desire a more dramatic volume increase, saline and silicone breast implants can be chosen according to the ideal size, shape, and type of enhancement you desire. For some patients, the best results are obtained with a breast lift plus implant placement in a combination procedure known as a breast lift with implants. Dr. Miller and our skilled team would be happy to find the most effective treatment plan to achieve your unique goals.  
Dr. Miller achieves excellent breast augmentation results that look natural and beautifully complement your silhouette. If you're interested in learning more, contact Miller Cosmetic Surgery for more information or to schedule an initial consultation. 
Previous Post
Next Post