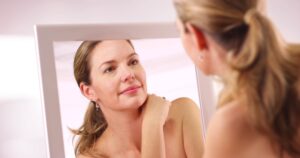 If you look tired all the time despite getting a full night's rest, the quality of your sleep may not be the cause. There are many signs of aging that can unintentionally make you look exhausted, including excess eyelid skin, wrinkling in the corners of your eyes, puffiness in the lower lids, and "hooding." These concerns typically develop naturally due to your genetics, facial expressions, and age, as well as from lifestyle factors like smoking and unprotected sun exposure. In either case, signs of aging can mask your true emotions and make you look less alert than you feel.
While the ideal solution varies for every patient, brightening tired eyes can simply be a matter of smoothing the eyelid contours. Effective treatments may include:
Upper blepharoplasty: Upper eyelid surgery removes, excess tissue causing "hooding" and puffiness, allowing patients to look more refreshed and awake.
Lower blepharoplasty: Lower eyelid surgery addresses the muscles of the lower eye and displaced fat below the eyelids, tightening the area and reducing shadows and dark circles in the process.
Laser skin resurfacing: Not all improvement has to come from a surgical procedure, and laser skin resurfacing can be an excellent way to smooth crow's feet and other fine lines around the eyes. Using advanced aesthetic lasers, our team can rejuvenate the tone, firmness, and texture of your skin during a convenient, in-office treatment.
Results from eyelid surgery can look remarkably natural and we invite you to explore before-and-after photos to learn about the outcomes possible with the procedure. Patients who undergo blepharoplasty are still able to retain the natural character of their face while simply looking like they've just come back from a relaxing vacation.
Tired eyes can falsely communicate emotions you may not even be feeling, but there are effective solutions to bring a more refreshed, brighter look to the surface. Contact Dr. Scott Miller today to discuss your concerns with a board-certified plastic surgeon and learn about the aesthetic procedures that can achieve your goals.
Previous Post
Next Post