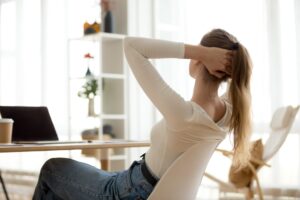 In making a patient's breast size more proportional to their body, breast reduction can be an immensely rewarding procedure that offers multiple aesthetic benefits. The cosmetic improvements possible with breast reduction are widely known, but the procedure can also lead to numerous emotional and physical health benefits. By reshaping large breasts to ensure they're lighter and more comfortable on the body, breast reduction can help alleviate a myriad of debilitating symptoms, such as skin chafing, back and shoulder pain, rashes, and a limited ability to engage in physical activity. In addition, improved posture can be one benefit of breast reduction that patients may not initially consider when researching the procedure.
Large, heavy breasts can place stress on the neck, shoulders, and lower back to the extent that some patients deal with feelings of numbness and tingling in their extremities, as well as more difficult mobility. This can translate to posture problems as the shoulders slouch forward to bear the extra weight, sometimes making it difficult to sit or stand up straight. By removing excess skin and breast tissue, breast reduction can alleviate the physical burdens of heavy breasts on the neck, shoulders, and spine to allow more comfortable movement and an improved quality of life.
There are many academic studies that explore the potential benefits of breast reduction on the spine and vertebral column for women with large breasts. That said, the best way to know whether breast reduction can achieve your unique goals is to consult with a board-certified plastic surgeon about your hopes for the procedure. Dr. Scott Miller would be happy to meet with you in a consultation to discuss the most optimal treatment options to resolve your symptoms.
Please contact Miller Cosmetic Surgery for more information or to schedule an initial consultation with Dr. Miller.
Previous Post
Next Post