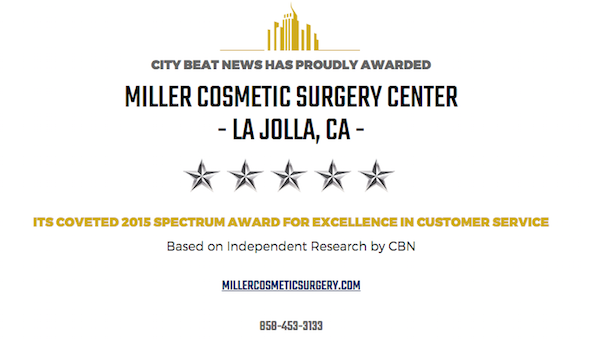 Our patients are our central focus, and we are committed to providing the highest-quality care. When it comes to cosmetic surgery procedures such as breast augmentation, facelift, or tummy tuck, having an experienced board-certified plastic surgeon can make a significant difference in your results and your satisfaction. We are happy to learn our practice is the 2015 recipient of The Spectrum Award of Excellence in Customer Satisfaction from City Beat News, highlighting our ongoing commitment to our patients.
The Spectrum Award of Excellence in Customer Satisfaction is an independently researched award designed to recognize local and small businesses that truly excel in customer service and experience. Dr. Scott R. Miller is particularly proud to receive this award as recognition for the personalized care he strives to give each and every patient who visits our practice. According to Dr. Miller, excellent plastic surgery results begin during the consultation process.
By taking the time to carefully listen to your unique cosmetic goals, Dr. Miller can design an individualized treatment plan that can meet – and exceed – your personal expectations. Our friendly staff creates a welcoming environment to make you feel comfortable from the moment you walk through our doors or call us to schedule an appointment. After your procedure, Dr. Miller makes sure to follow up with you personally, answering any questions you might have and helping to ensure that your recovery is going smoothly.
We see The Spectrum Award of Excellence in Customer Satisfaction as evidence that we are meeting our own high standards for patient care and aim to continue to find new ways to better improve our services.
Previous Post
Next Post