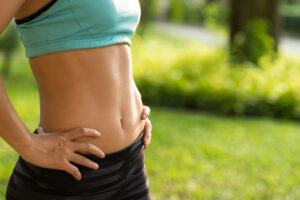 For men and women who eat healthy diets and exercise regularly, the stomach often remains a troublesome area of the body prone to excess fat and loose skin. When you put in so much time and effort to attain a flat stomach, stubborn pockets of fat or skin folds can be frustrating. At Miller Cosmetic Surgery, our board certified plastic surgeon, Dr. Scott Miller, offers two popular and effective body contouring procedures that can help you achieve the slimmer, more toned appearance you've been working toward.
Depending upon your unique needs and goals, Dr. Scott Miller may recommend either liposuction, a tummy tuck, or both. Liposuction, which can safely remove localized fat from nearly any part of the body, can be used to target and eliminate abdominal fat to contour your mid-section. However, this procedure is not designed to address any loose, excess skin or stretched muscle tissues. For these concerns, tummy tuck surgery would be a more appropriate option. Also known as abdominoplasty, a tummy tuck is performed to remove excess skin from the abdomen, repair stretched and/or torn abdominal muscles, and pull the remaining skin taut for an improved contour. Abdominoplasty is often used as part of a mommy makeover for women who wish to regain their pre-pregnancy figure. In the event the presence of both excess skin and fat in the abdomen is a concern, Dr. Miller will usually recommend combining liposuction with a tummy tuck to maximize the results.
To learn more about the differences between liposuction and tummy tuck surgery, or to schedule a consultation to find out which option may be best for you, please contact our office today.
Previous Post
Next Post