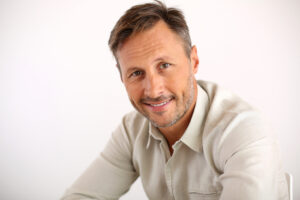 In recent years, more and more men have visited our practice to address cosmetic concerns that have been bothering them. Though women have been undergoing these facial procedures for years, men are just now beginning to take advantage of all the benefits plastic surgery and injectables can provide. Common facial procedures for men often include:
If you are considering undergoing a facial procedure, it is particularly important to find a plastic surgeon who can take into account the physiological differences between men and women when designing your treatment plan. Men's facial skin is often thicker than most women's, and can ultimately impact your final results. In addition, the aesthetic aims of men tend to differ from women. For example, while women often prefer to enhance the arch of the eyebrow, men frequently wish to retain a straight, strong brow line. To help ensure you attain the facial rejuvenation you desire, you should choose a plastic surgeon who has experience working with men, will listen carefully to your unique aesthetic goals, and can give you a youthful, natural, and masculine appearance.
For more information about our plastic surgery procedures for men, or to schedule a consultation with Dr. Miller, please contact our office today.
Previous Post
Next Post