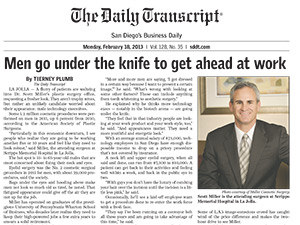 Dr. Miller Featured in the Daily Transcript Discussing Popularity of Eyelid Surgery and Neck Lifts Among Male Plastic Surgery Patients
Our experienced plastic surgeon, Dr. Scott Miller, was recently featured in an article in The Daily Transcript about plastic surgery for male executives. The author of the article, Tierney Plumb, reports that roughly 1.2 million cosmetic procedures were performed on men in 2011 according to the American Society of Plastic Surgeons, which represents a 6% increase from 2010. The San Diego plastic surgeon says this is an interesting trend developing at his practice as well.
In The Daily Transcript interview, Dr. Miller says he has seen an increase in male patients coming into Miller Cosmetic Surgery. The majority of these patients are aged 55-65, and are concerned about the appearance of their neck and eyes in comparison to their younger colleagues: "They don't want to be the older worker who is dragging things down, when they have a younger, dynamic crew competing side by side with them."
More About Maintaining Confidence in Their Appearance
Many of his male patients take the time to make sure they present a certain image, from the way they dress to the car they drive to the attitude they bring to the job every day. Dr. Miller says the decision to dedicate the time and energy to a facial rejuvenation, perhaps a neck lift, is aligned with the same goals for these patients.
Regardless of the motivation behind the decision to undergo male plastic surgery, Dr. Miller stresses his patients' main goal is to regain the confidence they once had in their appearance. He says it's not about competition so much as it is about looking into the mirror and feeling like their outward appearance matches the energy and drive they feel within.
Common Male Plastic Surgery Procedures
The two most common procedures this demographic undergoes is the neck lift and eyelid surgery (which was the second most common procedure in 2011 with about 29,000 performed in the US). There's no mystery as to why patients consider eyelid surgery when they decide to pursue facial rejuvenation. Dr. Miller says his patients want to address droopy or tired-looking eyes, because they want to appear more energetic, and maintain the high-powered jobs they've worked so hard to achieve.
Another area of concern for many of his male patients is the neck and jawline, as people commonly associate a strong jaw with authority, and a certain vibrancy and command: "We choose our politicians and executives that way, so it's not irrational for people to look at that in the workplace."
The Desire to Stay in the Game Longer
Especially as his patients have had to confront the effects the economic downturn has had on their retirement, Dr. Miller sees people who realize they want to be working for another 5 to 10 years. To do this, many feel they need to address the common signs of aging to not only instill confidence in their appearance, but bolster the confidence their co-workers and managers have in their ability to perform their jobs at an optimal level.
As a final word of caution in the article, Dr. Miller stresses the need to consult with an experienced and board-certified plastic surgeon: "People need to do their homework. First you have to figure out who took the time to pursue the appropriate training and then you work from there."
If you would like more information on male plastic surgery and non-surgical cosmetic enhancement options, or if you would like to schedule a confidential consultation with our plastic surgeon, please contact Dr. Scott R. Miller.
Previous Post
Next Post