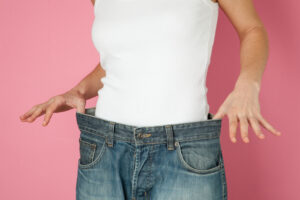 If excess skin left after significant weight loss is inhibiting your confidence, cosmetic surgery from our board-certified plastic surgeon may be the final step in the journey to achieve your aesthetic goals. Unfortunately, weight gain often stretches the skin to an extent that it can't "snap" back to its original shape after the weight is lost. The good news is that a myriad of procedures, including tummy tuck surgery, can be performed to tighten loose skin and better reveal your new body contours. Dr. Scott Miller has helped countless former bariatric patients get rid of their excess skin and attain their ideal physique with a personalized post-weight loss treatment plan. 
One of the biggest concerns raised to Dr. Miller from individuals who have undergone massive weight loss involves redundant or sagging tissue in the abdomen. Despite one's progress in their weight loss journey, this extra skin can still cause embarrassment or self-consciousness for men and women. While lax abdominal skin can't be addressed through dieting or exercise, a tummy tuck can be a powerful procedure to smooth, firm, and contour the abdomen while tightening separated musculature. Not only can excess skin be eliminated, but the entire abdominal profile can appear sleeker and more defined. This can often lead to very rewarding results for bariatric patients as well as individuals who have achieved weight loss naturally.
Making the decision to transform your lifestyle by undergoing weight loss surgery is a huge accomplishment. Dr. Miller and our team understand the power of looking and feeling like your best self, and we are here to help you in any way we can throughout your journey. Please contact Miller Cosmetic Surgery today to schedule an in-person or virtual consultation.
Previous Post
Next Post